Description
BOOST YOUR PERFORMANCE!!
BodyPlus Direct kinesiology tape is designed to approximate the elasticity of human skin, by lifting the skin microscopically, both blood and lymph circulations are improved. When applied correctly, it supports and minimizes inflammation in areas of injury while helping to increase circulation for an accelerated recovery and increased performance.
Product Features and Usage:
HIGH QUALITY: Place the K performance tape on the affected area to provide support for body movement areas whilst in the early stages of healing thus preventing damaged or torn areas.
REDUCE delayed onset of muscle soreness: reduces soreness from post-exercise conditions such as lactic acid. It reduces soreness quicker.

LESSEN SWELLING:

through the tape's elastic properties the design gives it a vacuum effect, the lymphatic and venous drainage systems in the body allow it to drain swollen or bruised affected tissue.
RE-ALIGN POSTURE: the k-tape is utilized for injured areas and also to re-align structures for balanced loading movements within the body E.g scapula taping for rounded shoulders.
BodyPlus Kinesiology Tape is utilized to treat a range of musculoskeletal injuries – Patellar tendinopathy, postural injuries, lower back pain, running injuries, shoulder, knee, hip, plantar fascitis, acute muscle tears sports injuries, and many related injuries. Available in 4 colors and different sizes.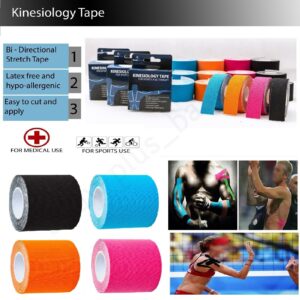 CAUTION: The entrapment of moisture and severe pressure on the skin can cause irritation. To prevent this from occurring ensure to apply the tape 1 hour before the activity and avoid stretching the tape when applying. The skin should be free from oil, sweat, and other lotions before applying the tape.