Description
Compression Sleeve stabilizer bars & patella gel pad adds extra support and compression to the knee area for pain relief help and injury recovery.

Product Features:
Premium Quality: This knee compression sleeve is made of excellent quality nylon, an environmentally friendly and long-lasting material. The sweat-absorbing and great-quality fabric featured meniscus tear knee support that will not bother you while using.
Wide Application: Volleyball knee compression pads sleeve can use for a wide range of activities through which stress comes on knee joints like hiking, running, gym, baseball, basketball, soccer golf, tennis, volleyball, squash, badminton, skiing, cycling, athletics, dancing, and many more. This knee support sleeve can help to deal with stress on joints.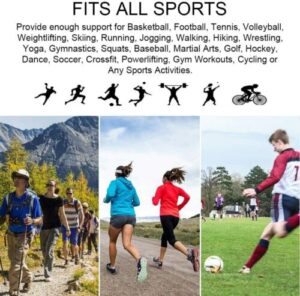 Non-Slip: Running knee pain support will stay in place throughout the activity, and will not slide down or up during use. The compression knee supports fit men, women, kids, and adults.
Comfortable Experience: Knee compression sleeve braces for Men & Women is smooth, soft, and Comfortable to Wear, You can wear them all day long. The knee brace can give you quick pain relief from intermittent or constant knee pain. A compression brace can also help encourage blood circulation, reduce swelling, and speed up the recovery healing process.
Great Support to Knee: Running compression sleeves can give great support and protection to the knee, the support sleeves for joint pain ligament offer balance pressure across the knee joints. The compression support sleeve provides optimal muscle support and full protection during your workouts and normal everyday activities.

Measuring method
Please measure around the circumference of the leg at the bottom of the thigh, just above the knee cap. If your measurement falls in between then opt for the larger size.
M: Thigh circumference 12″-15″/ 30-36 cm
L: Thigh circumference 15″-16.5″/ 36-42 cm
XL: Thigh circumference 16.5″-19″/ 42-48 cm