Description
LOOKING FOR PAIN-RELIEVING KNEE BRACES?
BodyPlus Direct Twin Hinged Strap Wrap – knee support brace is medically engineered to aid recovery from knee, tendon, and patella injuries. Knee pain relief arthritis, sprains, strains. Runners knee support, knee brace for a meniscus tear. The BodyPlus Direct Knee Support offers dynamic support and adjustable compression to the knee complex without restricting movement. The open patella design with stitched buttress helps with patellar tracking whilst providing added support and helping with overall stability by eliminating glide and twisting at the knee. Weight-bearing pressure during movement is more evenly distributed over the joint helping with arthritic and meniscus pain. The durable, heat therapeutic neoprene helps with arthritic knees, chronic aches, and stiffness. One size design fits either the Left or Right knee. Fully adjustable to ensure the optimum fit and blood flow safety.
Product Features
Mesh panel at the back for comfort and ventilation

Secure front opening for hinges

Front top and back bottom velcro adjusters for best fit.

Adjustable twin strap Hinged Stabilizing Knee Support. 

This adjustable knee support has been specially designed, medical grade neoprene to provide comfort and additional support to the knee. Its purpose is to support an injured knee during recovery and relieve pressure and pain whilst giving free movement. 
The knee support aids conditions such as: 
Chondromalacia (irritated knee cap) 

Patellar tendon sprains 

Arthritic knee 

Conditions that require lateral (outside) and medial (inside) firmness 

Menisci (cartilage injury) 

The knee support is manufactured using ventilating medical grade neoprene enabling ultimate comfort and support. 

The durable fabric allows tight contour to the knee to relieve pressure and pain. 

The neoprene gives excellent heat retention and the open patella design allows airflow. this prevents moisture build-up. 

This support can be used during daily routines for support all day or as required. 

The knee support is slip-on with two adjustable knee straps for tightness for your suiting. 

Twin Hinged system with dual axial polycentric axial( plastic) hinges for excellent gliding action and lateral movement.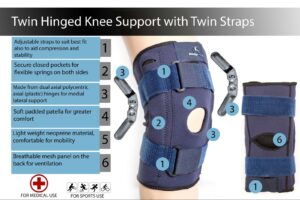 SIZES 
Medium 35-37 CM 

Large 38-40 CM 

XL 41-44 CM 

XXL 45-48 CM 

XXXL 49-53 CM 

XXXXL 54-58 CM 
Measuring Method 
Please measure around the circumference of the leg at the bottom of the thigh, just above the knee cap. If your measurement falls in between then opt for the larger size. 
Please look at the image below for an in-depth drawing of the sizing method.