Description
The Right Choice For Your Knee Problems
Knee problems are very common and painful these days and people usually, result in either take heavy medications or get an operation which causes financial costs, emotional trouble, and a lot of pain.
If you want a solution to this problem maybe not a permanent one but something you can use whenever you feel the need, something compact, or something that does not cost a fortune BodyPlus Direct Adjustable Compression Silicone Padded Knee Strap Support is the perfect choice for you.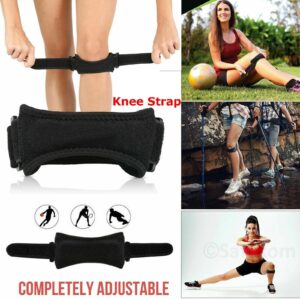 How It Works:
BodyPlus Direct Adjustable Compression PATELLA KNEE STRAP applies pressure on the tendon below the kneecap and assists in correct tracking giving symptomatic relief of pain and inflammation associated with patella femoral syndrome.
The unique hook and loop closure design fit all knee sizes with adjustable support.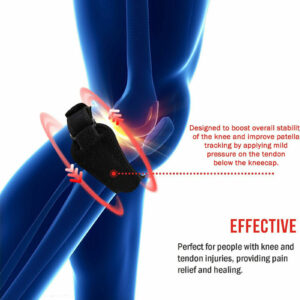 Features:
TARGETED RELIEF: For the patella tendon the tubular pad disperses stress from microtears across the full width of the joint, alleviating chronic pain
ENHANCED RECOVERY: With firm support below the kneecap limits abnormal patella movement; in turn preventing further tears in the ligament (a common symptom of ITBS, OSD, and patellar tendonitis); the insulating band further stimulates local blood circulation to aid in the natural healing process
SPECIFICALLY TAILORED: For patellar conditions such as runner's knee, jumper's knee, and tendonitis which are frequently experienced by runners, basketball/football players, and weightlifters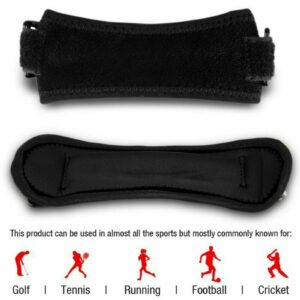 MADE TO LAST: With robust stitching, premium quality latex-free neoprene for sensitive skin, and a high-grip strap
UNIVERSAL FIT: With an easily adjustable strap for left or right knees. it can be adjusted to suit the curve and size of almost any knee
DURABLE AND RELIABLE: This knee strap is made from only the best quality nylon and neoprene making it highly durable and reliable, even during the most intensive exercise.
COMFORTABILITY: The combination of high-quality neoprene padding and fully adjustable straps gives this knee strap the perfect comfort for your knee.
Specification:
Size: 35 x 3.8 x 6.5cm
Material: High-Quality Neoprene & Nylon
Package Contents:
Adjustable Patella Tendon Strap Knee Support Jumpers Runners Pain Band Brace