Description
When life throws an unexpected injury your way, respond in a way that has been done for years. Ankle braces have been seen as one of the best tools for a speedy ankle recovery. And for good reason!
No matter what activity you take on in your daily life, ankles have always been a vulnerable area to sprains, tendonitis, and plantar fasciitis, among other foot-related injuries. Left untreated, this pain can make doing everyday tasks troublesome. But that does not have to be the case!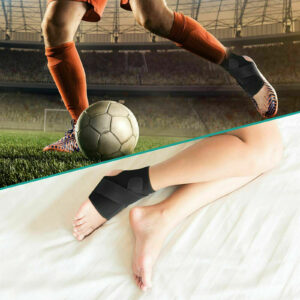 Product Features:
Ankle Support: Protects against chronic ankle strain, sprains, and fatigue and is ideal for compression and support to promote faster recovery from any injury or prevent the risk of injury. Helps with the pain relief caused in the ankle and feet during cold weather.

Open heel design

allows a wide range of motion during activity and still provides support for the ankle tendons and joints of your feet for a long.
It has a sticking strapping for closure purposes and one size fits both feet and up to 11″(mention true feet) in feet arch circumference
Breathable Neoprene Pain Relief: This breathable neoprene material retains heat and prevents skin irritation. It will not bother you for as long as you are wearing it because of its breathability feature.
Support Injured: Stabilize injured weak or arthritic ankles during occupational and sporting activities. You can easily wear this as protection for your feet while on outdoor activities and exercises!
Protect the ankle and minimize the risk of injury. Perfect for chronic and acute ankle injury symptoms. Helps relieve pain and provides comfort related to plantar fasciitis.
Speed up the healing phase, as it provides just enough needed support for the ankle and foot through compression on the tendons where you need it the most.
You can hand wash this with mild soap and

warm water. Air-dry at room temperature. Don't machine wash, dry clean, or use bleach or fabric conditioners.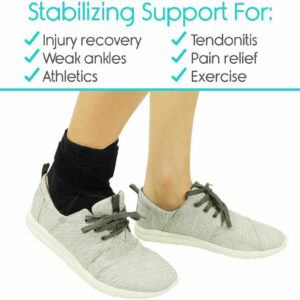 Specifications:
Material: Breathable Neoprene
Size: One Size fits all feet up to 11 Inches
Colour: Black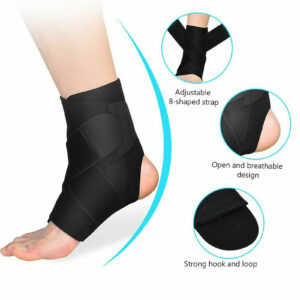 Package Contents:
1X Medical Ankle Support Strap