Description
If you are someone who enjoys working with weights and pushing your limits, BodyPlus Direct brings you these premium wrist support straps! For added comfort and protection for your wrist flexors and extensors.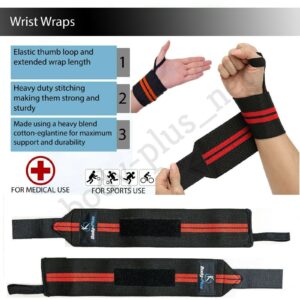 Product Features:
Designed with an elastic thumb loop and extended length Velcro closure

Suitable for supporting wrists whilst powerlifting, deadlifts, or whilst squats

Durable, high quality, and comfortable for your needs

Heavy duty stitching makes them strong and sturdy

Made using a heavy blend of cotton-eglantine for maximum support and durability

Unisex

3 inches wide and 13 inches in length, these lifting wraps are one size fits all and sold as a pair. Can be washed in slightly warm soapy water, and left to dry at normal room temperature.