Description
Do you frequently suffer from back, shoulder, or neck pains? Do you feel low on confidence and energy due to bad upper body posture issues?
Stop slouching, improve health and regain your inner confidence with BodyPlus Posture Corrector for men and women. Poor posture over the years can lead to neck, shoulder, or back pains; this body posture trainer is designed to restrain your body to assume the correct posture. By gently pulling your shoulders back, this posture correction brace keeps you upright and improves your posture.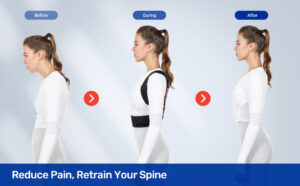 Comfortable and convenient, this spinal brace support has soft, breathable straps, which can be adjusted to fit your upper body size without a problem. With no skin irritation and sweating assured, it is ideal to be worn at home or office. The posture correction back brace has an innovative Figure 8 design and is comfortable to wear under or over clothes. Simply loosen the straps and put on just like a backpack!
Features:
Available in multiple sizes
Comfortable padding prevents straps from rubbing under arms; dual support points ensure secure positioning.
Easy-to-wear design lets you put on your back brace and adjust the size quickly and easily

Size Chart: